Dr. Brenda Andrews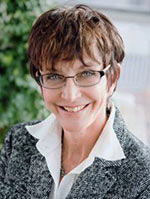 Affiliation
Charles H. Best Chair of Medical Research
University Professor and Director
Donnelly Centre for Cellular and Biomolecular Research
Professor, Molecular Genetics
University of Toronto
Committee membership
Governing Council
Biography
Dr. Andrews is a Director of the Donnelly Centre for Cellular and Biomolecular Research and University Professor of Molecular Genetics at the University of Toronto, where she also holds the Charles H Best Chair in Medical Research.
Dr. Andrews' current research interests include analysis of genetic interaction networks in budding yeast and mammalian cells, using high through-put genetics platforms that include high content microscopy for systematic analysis of cell biological phenotypes. 
In 2015, Dr. Andrews was awarded the Companion of the Order of Canada for her globally significant research in systems biology and for developing and nurturing prominent scientific communities in molecular genetics. She is also an elected Fellow of the Royal Society of Canada, the American Association for the Advancement of Science and the American Academy of Microbiology, and a Senior Fellow of the Canadian Institute for Advanced Research.
Date modified: