Ms Chris Power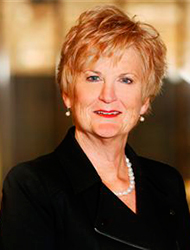 Affiliation
CEO, Canadian Patient Safety Institute
Committee membership
Governing Council
Nominating and Governance Committee
Biography
Chris Power's journey in health care began at the bedside as a frontline nurse. Since then, she has grown into one of the preeminent healthcare executives in Canada. Her experiences, her success, and her values have led her to the position of CEO of the Canadian Patient Safety Institute.
Previously, Chris served for eight years as president and CEO of Capital Health, Nova Scotia, with an annual operating budget of approxiamtely $900 million, and 12,000 staff. Under Chris's leadership Capital Health achieved Accredidation with Exemplary Status in 2014 with recognition for 10 Leading Practices.
Chris holds a Bachelor of Science in Nursing from Mount Saint Vincent University and a Masters in Health Services Administration from Dalhousie University. She is a Certified Health Executive with the Canadian College of Health Service Executives and holds a Fellowship in Management for Executive Nurses from the Wharton School, University of Pennsylvania. In 2003, she received the Award for Excellence and Innovation from the Canadian College of Health Services Executives and in 2007 received an Award of Excellence from the Halifax Progress Club. She was named one of Canada's Top 100 Most Powerful Women in the Public Sector Category three years in a row from 2007-2009 and in 2010 was inducted into the Hall of Fame. She was named one of the Top 50 CEO's in Atlantic Canada four times and in 2013 was inducted into the Top 50 CEOs Hall of Fame. In 2013 Chris received an Honorary Doctorate in Civil Law from Saint Mary's University.
Chris holds significant governance roles including Chair of the Canadian Partnership Against Cancer and Board Member of the Canadian Association for Health Services and Policy Research. She is past Co-Chair of HealthCareCAN.
Most recently Chris participated as a member of the federal advisory panel on healthcare innovation and through this role has gained even greater insight into the many pan-Canadian organizations that will be beneficial in forming partnerships, leveraging expertise and advancing the goals of CPSI.
With all of the accolades and responsibilities, Chris has maintained her strong sense of self and credits her love of family, faith and her gift of singing for keeping her grounded.
Date modified: