Dr. Lori West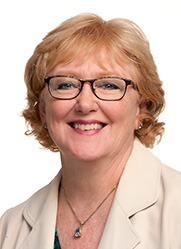 Affiliation
Professor of Pediatrics, Surgery, Immunology and Laboratory Medicine/Pathology
University of Alberta
Director, Alberta Transplant Institute
Committee membership
Governing Council
Standing Committee on Ethics

Biography
Lori West is a clinician-scientist who received her MD from Tulane University (New Orleans) and her DPhil (PhD) from Oxford University. She is a Professor of Pediatrics, Surgery, Immunology and Laboratory Medicine/Pathology at the University of Alberta. She serves as Director of the Alberta Transplant Institute and holds the Tier 1 Canada Research Chair in Cardiac Transplantation. She is a world leader in pediatric heart transplantation and transplant immunobiology; her work includes crucial translation of basic concepts and findings from laboratory-based cell and animal models to clinical application and health policy development in organ transplantation. She pioneered a strategy for increasing donor availability for infants by crossing the ABO barrier, a dramatic change in accepted clinical practice that had major global impact on infant heart transplantation. Her investigations of the immune development of children after ABO-incompatible transplantation led to the first demonstration of neonatal transplantation tolerance in humans. Dr. West's diverse interests in transplantation-related ethics issues include efforts to address illegal organ trafficking and transplant tourism, complex medical therapies in emerging economies, organ donation participation opportunities for infants and children, and heart transplantation from donation after circulatory death (DCD) donors.
Dr. West is the founding Director of the Canadian National Transplant Research Program (CNTRP). Launched in 2103, the CNTRP is a coalition of 350+ research participants at 31 sites across Canada funded by several CIHR institutes and the CIHR Ethics Office, together with various trans-sector partners. A globally unique research constellation, the CNTRP integrates basic, clinical and health policy/ethics researchers in the three arenas of organ donation, organ transplantation and hematopoietic cell transplantation/cellular therapies. With a dynamic framework that is highly trans-disciplinary, bilingual and gender-balanced, CNTRP research spans not only CIHR's four health research pillars but also links with SSHRC and NSERC, and includes extensive patient/citizen engagement and numerous international collaborations.
Serving the CIHR Institute of Circulatory and Respiratory Health (ICRH) as a member then chair of the Institute Advisory Board, Dr. West was subsequently ICRH Interim Scientific Director.  As a member of CIHR's Governing Council, she has also served on the GC Executive Committee. Dr. West served as President of both the International Society of Heart and Lung Transplantation and the Canadian Society of Transplantation, on the Board of Directors of the American Society of Transplantation, and on the International Steering Committee for Women in Transplantation of The Transplantation Society. Dr. West is a Fellow of the Canadian Academy of Health Sciences (2011) and will soon be inducted as a Fellow of the Royal Society of Canada (2017).
Date modified: