Study Results
May 16, 2016
Study suggests link between consuming artificial sweeteners during pregnancy and infant obesity
A study led by Dr. Meghan Azad at the Children's Hospital Research Institute of Manitoba has found that a mother's consumption of artificial sweeteners, like those found in diet soft drinks, during pregnancy may increase their child's risk of obesity. By comparing the dietary intake of pregnant women during their second and third trimesters with their child's body mass index, or BMI, Dr. Azad found that daily maternal consumption of artificially sweetened beverages was associated with a two-fold higher risk of infant obesity. The study, published in the journal JAMA Pediatrics, was conducted using data from the Canadian Healthy Infant Longitudinal Development (CHILD) study, which is co-funded by the CIHR and AllerGen.
March 17, 2016
Team from Institut de Recherches Cliniques de Montréal suggests new approaches for treating cancers, infections and a rare disease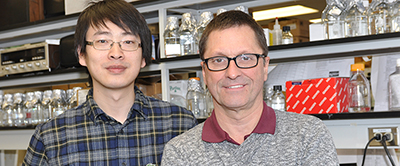 André Veillette, MD (right) and Ning Wu, PhD
Photo courtesy of Hélène Lambin, IRCM
A team of researchers led by André Veillette of the Institut de recherches cliniques de Montréal has discovered stem cells with protective properties that can destroy cancer cells. The team has concluded that these "natural killer" cells enhance these properties over time by training themselves in self-defence. The researchers are therefore now attempting to accelerate the activity of these cells so that their therapeutic properties can be used to greater advantage more rapidly, in the development of innovative treatments for cancer and certain viral infections. In addition to improving treatments for cancer and viral infections, this discovery—co-funded by the Canadian Institutes of Health Research–will enable the scientific community to make advances in the study of a rare disease known as Duncan's syndrome.
February 12, 2016
CIHR-funded researcher's work on disrupting tumour growth appears in Cancer Cell
Dr. Jörg Stetefeld is part of a team whose work was featured in the most recent edition of Cancer Cell. The team's work revolved around studying a particular receptor found on proteins on our nerve cells. This receptor helps nerve cells send electrical impulses towards the rest of the body, helping us to experience things like the sensations of touch and warmth, for example. In studying this particular receptor, called UNC5, Dr. Stetefeld and the rest of the team discovered that by using an antibody to block the protein and its receptor from interacting, some tumour cells would lose their ability to grow, and would die off.
The team also experimented with ways to make tumour cells more susceptible to this antibody, opening the door to combining it with existing cancer drugs to create more effective therapies to stop tumours from growing.
Date modified: